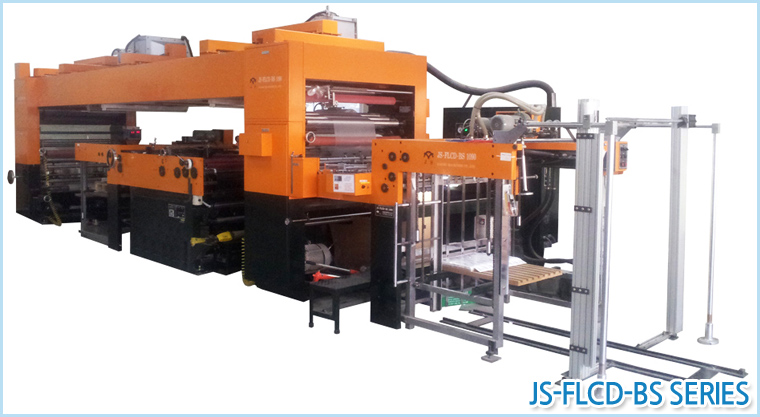 * Click image for large view.


JS-FLCD-BS-SERIES

▣ Combination Type (Film : General opp, Glueless, Thermal)
◎ The machine does work by all OPP films such as general bopp, Glueless film, and Thermal film.
◎ The machine does not effect from film supply, and it is possible to cover three kind films.
◎ For using Glueless film and Thermal film, it makes a save time to ready to work by film air-shape and it saves film than General OPP film.
◎ A quality and good productivity has improved to achieve maximum by a size with durability of heating roller.
◎ For accurate thermometric, temperature sensor attach inside the heating roller.
◎ Hot-air drying makes to increase process speed by special making dry method of construction
◎ Aerometry mechanics technology does protection from elasticity of thin film, transformation, and slant to one side.
◎ Machine does not make a drop of water because by Rotation and ventilation fan.


JS-FLCD-BS-1020
Max.paper size
(L) x (W) (mm)
720 x 1020
Min.paper size
(L) x (W) (mm)
260 x 400
Machine speed
(m/min)
20 ~ 50
Machine size
(L) x (W) x (H) (mm)
11525 x 1940 x 2780
Paper range
(g/㎡)
100 ~ 500
Max.pressure
(kg/㎠)
300
Total Heater volume
(kw)
81
Power consumption
(kw)
20
Machine weight
(ton)
10.5
JS-FLCD-BS-1090
Max.paper size
(L) x (W) (mm)
788 x 1090
Min.paper size
(L) x (W) (mm)
320 x 470
Machine speed
(m/min)
20 ~ 50
Machine size
(L) x (W) x (H) (mm)
11675 x 20400 x 2780
Paper range
(g/㎡)
100 ~ 500
Max.pressure
(kg/㎠)
300
Total Heater volume
(kw)
81
Power consumption
(kw)
20
Machine weight
(ton)
11
JS-FLCD-BS-1250
Max.paper size
(L) x (W) (mm)
890 x 1250
Min.paper size
(L) x (W) (mm)
360 x 470
Machine speed
(m/min)
20 ~ 50
Machine size
(L) x (W) x (H) (mm)
11840 x 2190 x 2780
Paper range
(g/㎡)
100 ~ 500
Max.pressure
(kg/㎠)
300
Total Heater volume
(kw)
90
Power consumption
(kw)
25
Machine weight
(ton)
12