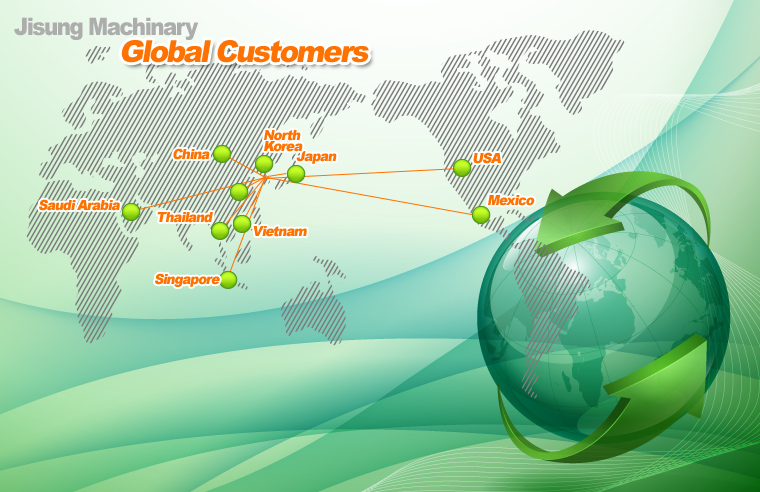 Company
JI SUNG Machinery Co., Ltd.
President
Yong-Hwan Jeon
Address
276-5, Siksa-dong, Ilsandong-gu, Goyang-City, Gyeonggi-do, Korea
Tel.
82-31-963-2161~3
Fax.
82-31-963-2165
Homepage
http://www.jsflcd.co.kr
E-mail
newjisung@naver.com
Main Product
Laminator, UV Spot Varnishing Machine, Roll Pasteboard M/C,
Roll Laminator, Water-based and UV Coating Compatible M/C
Pro-environmental Laminating

There are two kinds of laminating such as oil-based and water-based laminating.
In case of oil-based laminating there are demerits of water and air pollution as well as fire by way of Benzene and toluene used as a solvent.
The water-based laminating has been generalizing at both domestic and overseas as a strategic to get over these defects.
We finally succeeded to produce the first water-based laminating M/C in 1988 as a result of research and development for more than 10 years.

In the old days, the majority of laminating M/C were founded on air, oil-based type.
Of course, there were wet-type, water-based laminating M/Cs.
The dry-type, water-based laminating M/C was the only alternative to get over the defects of the wet-type, water-based laminating with lower working efficiency, and the oil-based laminating with danger of fire and environmental pollution despite high working efficiency.

We made efforts to apply our customers' reform measures to machines manufacturing
Our efforts were rewarded to make inroads into China, Saudi Arabia, Vietnam, Tailand, Hong Kong, Indonesia, Malaysia as well as U.S.A.
Until now our business in China has been higher than we expected and all members of JI SUNG have focused to extend business activities continuously in China.

We, JI SUNG MACHINERY CO.,LTD will do our best to develop UV and water-based coating and then expand exports and preserve environment.


Dry-type, water-based Laminating

Various safety and air control switches are equipped at Feeding Section.
Searching the varnished points and automatic feeding by encoder and counter have made possible.
The productivity is increased because non-stop operation can be made by way of additional auxiliary die as well as main die.

Removing powder by way of heating roller knife has minimized the dust on roller.
Accurate focus is possible, putting the Powder Removal Section and Register Process Section together.
And it can be minimized the vibration and noise of the machine.

As to Lamination Section which is the core of the M/C, the vibration and noise can be removed by using sturdier frame, and hard-high-quality chromed main roller grinded and processed hard surface to improve precision and prevent deformation.
The thermal conductivity is improved by heat medium oil in heating roller, and accurate temperature can be detected and constant temperature maintained by digital thermostat.
When the paper can't be supplied smoothly the machine is due to stop automatically by way of automatic sensor.
Accurate regulation of film position is possible by means of E.P.C (Edge Position Controller).

Rotary Cutting Section provides high speed rotary cutting , simple operation and easy maintenance, precise and clean cutting. Delivery and Loading Section provides precise and safe system of paper jogging, automatic descending the laminated papers by sensor, paper delivery by air-press-hole belt, paper printing on both sides by air supply during loading.

Film Supplying Section with automatic film tension control system is equipped with the wasted film cutter.
Even when the machine is stopped, film tension will be kept up.
And stand-by film exchange system can be prepared as optional part.

Coating Section adopted the knife coating system for water-based glue.

Drying Chamber shaped double box maximizes the heat insulation effect by inserting insulation material(glass fiber).
In addition, digital thermostat system provides to regulate the temperature in chamber automatically.
Accurate film transfer is possible by various rollers which developed characteristically.